Gold jewellery for different occasions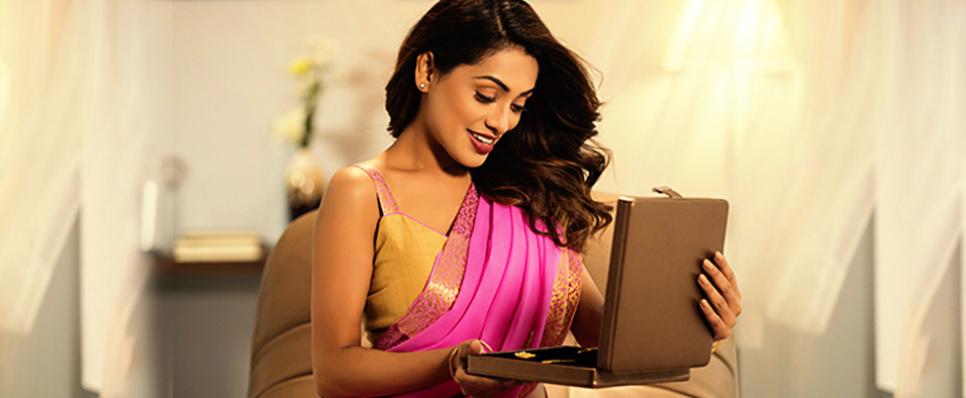 Did you know that around 49 percent of all gold mined today is made into jewellery? While gold jewellery can be scintillating in all forms, at all times, picking out the perfect set for a special occasion is an art in itself - be it a simple family get-together, a wedding, or even an outing with your colleagues. Here are some ideas to help you look your best:
Gold – as a bride

Your bridal wear could be Red and White, Pink and Yellow, Blue and Beige, or any other stunning combination, however gold is quintessential to complete your bridal look with some intricate gold jewellery that serves as a blend of cultural and spiritual essence. The visual appeal of Indian bridal gold jewellery attracts attention due to its fine craftsmanship. Traditional gold jewellery designed by adept karigars (craftsmen) take the form of chik (choker) necklace, rani haar, tiara maang tikka, etc. and can be worn on your wedding day.  You can also wear gold bangles, kangans, kamar bandh, necklaces, rings, earrings, hath phool, and other types of gold bridal jewellery to usher in your big day in style. Here are 7 Ways a Bride can add Gold to her Wedding Day.

Gold – as a wedding guest

A classic gold necklace set borrowed from your family's heirloom collection would do the trick at a friend's wedding. Wear it with a gown, heavy saree, lehenga, or any other heavy attire to create magic.

Gold- for a festival

India, the land of festivals, finds gold lovers across the country wearing costume jewellery to add to celebrations. Gold earrings, bangles, anklets, necklaces, rings, and kangans can be worn on Deepawali, Pongal, Raksha Bandhan, Karwa Chauth, Dussehra, etc. to mark the occasion. Be it yagnas, pujas, religious ceremonies or festivals; it is considered auspicious to wear gold jewellery along with traditional costumes. Gold symbolises prosperity and opulence and believed to herald good fortune and wealth. India being the land of festivals boasts of several regional peculiarities when it comes to choosing gold jewellery – here is a look at gold jewellery worn across India. 

Gold- at work

How would you like to create your own style statement at your next corporate event by wearing the subtle touch of gold? While western apparel would complement a gold pendant, a simple gold ring, or a pair of striking bangles, traditional wear like a crisp kurti or a lightweight saree can be matched with contemporary or traditional gold sets. Instead of chunky gold jewellery, you can opt for more understated, subtle designs that add the prestige and beauty of gold to a modern outfit. For more ideas, read

Gold- for a family get-together

Time with family is comfortable and safe, so dress to feel good. Dress to express your sense of style without worrying about a dress code! You can opt for an arm band or a toe ring or a body chain prized jewellery pieces you may not have found an occasion for before. Gold ornaments such as earrings, bracelets, necklaces, bangles, anklets, nose rings, etc. would add to your charm.  Simple, contemporary, and striking designs are all up for grabs.

Gold – for a religious celebration

It's at times of celebration that gold shines in all its glory! Whether you are attending a yagna, baby shower or any other religious or cultural occasion, gold can complete your ensemble. Long layered necklaces, gold jhumkaas, a gold hathphool, and a heavily intricate pair of gold bangles would fit perfectly into the traditional dress code for such celebrations.
"Jewellery has the power to be this one little thing that can make you feel unique", said Jennie Kwon, a famous US based luxury jewellery designer. The gold jewellery piece you choose can be an expression of your personality. Fortunately, there is a whole range of elegant, ornate, funky, ethnic, flashy and customised gold jewellery to choose from for different occasions.