Resplendence of Kerela's traditional gold ornaments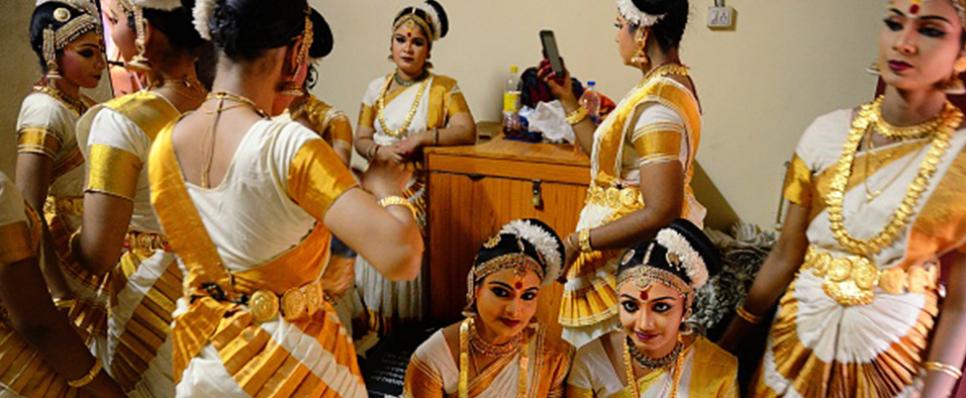 Keralites' unrivalled love for gold needs no introduction. Be it religious ceremonies, festivals, or weddings; gold jewellery is an integral part of almost every special occasion.
Also known as 'God's own country', Kerala boasts of some stunning traditional gold jewellery designs that display extraordinary craftsmanship. And many of the latest gold jewellery designs give a refreshing new look to those traditional styles.
Let's take a look at some classic gold jewellery designs from Kerala:
Gold kaasumala

'Kaasu' means money and 'mala' means necklace. Popular among Hindu women in Kerala, kaasumala consists of gold coins joined to form a neckpiece. The coins are engraved with a likeness of Goddess Lakshmi. In Hindu tradition, Lakshmi is believed to be the symbol of wealth and prosperity.

Gold karimani mala

Similar to a north Indian mangalsutra, karimani mala is made up of black and gold beads and is worn by married women.

Courtesy: CS Jewellers

Mullamottu mala: gold chain

Mullamottu mala or 'jasmine-bud necklace' is another important jewellery item in a Kerala bride's attire. It consists of a number of jasmine buds made from gold strung together. It may also include beautiful meenakari design work.

Courtesy: Malabar gold

Manga mala

Another popular gold jewellery item among brides in Kerala, manga mala is a gold necklace made up of paisley-shaped motifs.

Courtesy: SVTM Jewels

Courtesy: Annaii Jewellers

Pathakam

Made entirely of gold, pathakam is a necklace with a huge, round moon-shaped pendant. It is available in many designs – vaira minni, chandra minni, Shakunthala, Menaka, etc. Pathakam usually forms the first layer in a Keralite woman's bridal jewellery.

Gold kolusu

Commonly called an anklet, kolusu is a gold ornament worn by Keralite women on their ankles. It is worn on all special occasions and festivals.

Courtesy: Malabar Gold

Courtesy: Malabar Gold

Gold jimikki

A gold-plated ornament with small dangling bells, the jimikki is a style of earring that's very popular among Keralite brides.

Poothali

An intricately carved necklace inspired by nature, poothali consists of flower- and leaf-shaped charms made of gold.

Ashtalakshmi vala

Made of gold, these bangles signify the eight incarnations of Goddess Lakshmi. Ashtalakshmi vala is believed to bring health and prosperity to the wearer.

Courtesy: Kollam supreme online
Not only does the gold jewellery of Kerala exhibit great artistic skill, it is also a reflection of the state's vibrant and illustrious cultural heritage.