What makes Kerala a Gold Lover's delight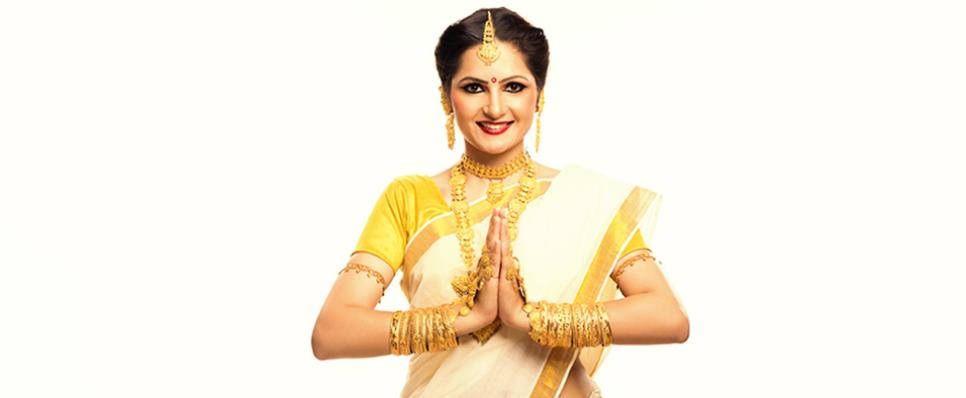 While India's love for gold is no secret, the people of Kerala seem to have an unparalleled affinity for the precious metal. Here are some facts that show just how large a role gold plays in the lives of Keralites.
Gold and worship
Kerala is truly Gold's own country. Even God loves gold here. Kerala's famous Padmanabhaswamy Temple holds about Rs. 1.2 tn worth of precious metals including gold. It is believed that the Travancore royal family has been accumulating its gold wealth in the temple for thousands of years . Some of the items believed to have been held include a gold chain that is 18 feet in length , a gold sheaf weighing 500 kgs , a 3.5 feet tall idol of Mahavishnu made from Pure Gold, and more. The temple contains six vaults named A-F, and out of these, vault B remains a secret till date. According to reports in 2014, two more vaults (G & H) have been found . This makes it the richest place of worship in history.
Image source: Source
Gold and festivals
After temples, festivals take the second spot on Keralites' gold list. Gold sales spike during the festivals of Onam and Vishu in Kerala. Vishu- the new year of Keralites, which usually falls in April every year, is closely associated with gold - from the gifting of gold coins and ornaments, to the golden cucumber, a fruit popularly bought during New Year season.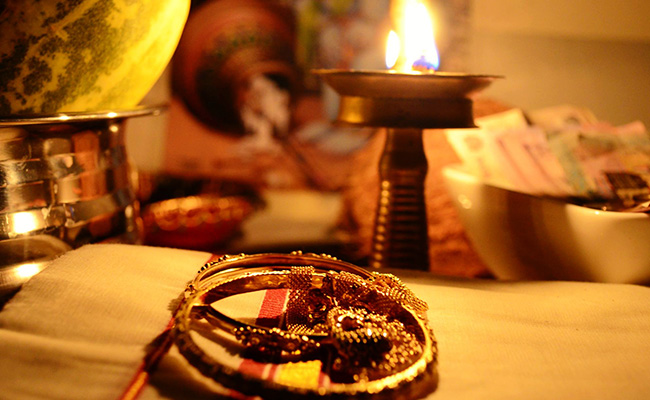 Image source: Source
Gold and money
Given the amount of gold Keralites buy on festivals and otherwise, it shouldn't come as a surprise that three of the largest gold loan companies in Kerala together hold more gold – 250 tonnes as of September, 2016 - than the individual gold reserves of countries such as Belgium, Singapore, Sweden, and Australia.
Gold and jewellery
The story of a village in Kerala is equally fascinating. Koduvally , a village is located 25 kilometres away from city of Kozhikode in Kerala, has more than 100 jewellery shops within a 1-kilometer radius!
The next time you are touring South India, make sure to visit Kerala- truly a gold lover's delight.
Gold and weddings
When it comes to jewellery, nothing beats the gold ornaments that adorn a Keralite bride. The average weight of the gold jewellery worn by an upper middle class Keralite bride is 320 grams and is worth 9 lakhs, making Kerala's bride India's true golden girl!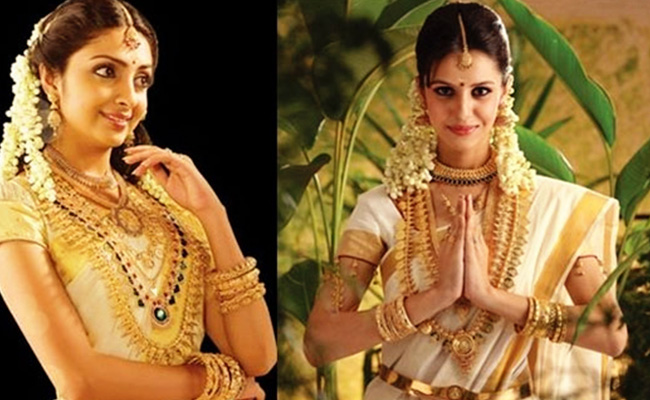 Image source: Source
Typically, brides wear gold necklaces of varying lengths and styles, giving a layered look. The shortest one is a choker, worn closely around the neck. There is also a body chain that adorns the waist. The bride will then wear dangling earrings- similar to jhumkaas- and various types of gold bangles . The emphasis on wearing more gold lies in the belief that it reflects the financial status of the bride's family.
Gold demand
In fact, rural Kerala's per-capital monthly expenditure on gold, almost Rs 210, is the highest amongst all rural and urban areas in the country, far ahead of the other six top states by gold consumption (Goa, Karnataka, Himachal Pradesh, Tamil Nadu, J&K, and Punjab).
Sources:
Source1, Source2, Source3, Source4, Source5, Source6, Source7, Source8, Source9, Source10, Source11, Source12, Source13