The significance of gold in south India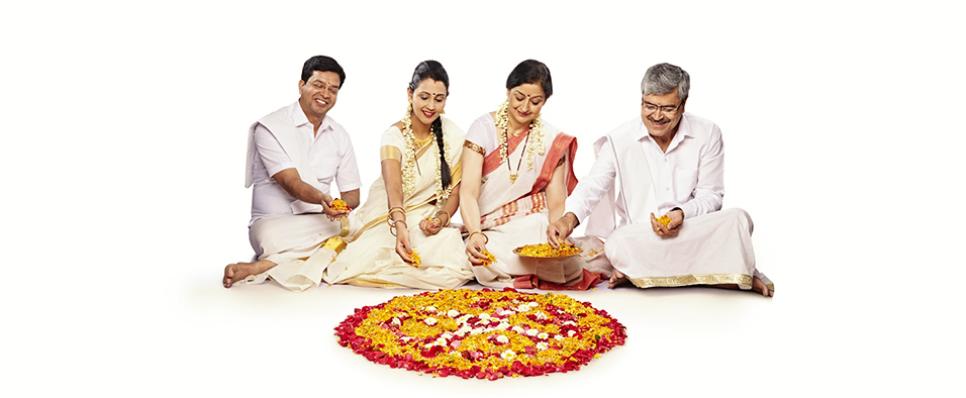 India's love for gold is no secret. But this topic usually finds a special mention of South India.
Did you know that during the Roman Empire, gold was used as a currency to obtain a variety of spices from Cochin?
For a long time now, gold has played a significant part in all South Indian cultures and added to the grandeur of their traditions.
Gold and festivals
Gold, the metal and the colour, play an integral part in the Keralan new year - Vishu. Gold is used to decorate 'Vishukanni' - an arrangement of gold, flowers, fruits, pulses, and many other things. With Vishukanni, you open your eyes to prosperity and divine wealth which will fill your life for the coming year.
'Akshaya Tritiya' is celebrated with great zeal and extravagance in the state of Tamil Nadu. People consider this day as an extremely auspicious day of the year to buy gold and prefer that weddings and other important events take place on Akshaya Tritiya . This practice is said to usher happiness and prosperity in one's life. Therefore, people buy gold ornaments on this day, gift it to their loved ones and even donate to the ones in need.
Related: 8 Occasions Where Gold is the Ideal Gift
Gold and weddings
As per the India Gold Report released on 24th January 2017 by World Gold Council, the weight of the gold worn by a bride from Kerala is 320 grams. Brides from Tamil Nadu and Andhra Pradesh, on average, wear 300 grams of gold at their weddings.
South Indian brides are decked up with gold from head to toe on their wedding day. Parents gift their daughter - the bride - a significant amount of gold on her wedding day. In this way, the parents assure their daughter's future in her new home.
Kasavu sarees with intricate golden embroideries are a popular bridal attire in the South India. The bride glitters in gold and looks ethereal on her special day.
There is another tradition in Kerala in which the groom's family buys a saree called the 'Manthrakhodis'- these are richly embroidered in gold. Threads from this saree are taken and tied around the bride's neck as the 'mangalsutra'
A Mangalsutra in Tamil Nadu is called 'Thaali', weighing around 4 to 8 grams. Worn with a gold chain, many make different additions to the thaali. Some add gold coins while the others choose gold roundels and bottu to the main Thaali.
Each motif or design made on the Thaali represents something different. For example, the shiva linga embossing on the gold Thaali symbolises fertility while the Tulsi embossing symbolises purity.
The mangalsutra in Andhra Pradesh, generally consists of two coins made of gold. This telugu mangalsutra is also known as 'Pustelu'. According to tradition, one of these gold coins comes from the groom's side while the other from the bride's side and the two are separated by beads.
Gold and ceremonies
Thread ceremonies or Annaprashan is a South Indian tradition where relatives and friends gift gold coins and other such gold items to the hosts. Annaprashan is a ceremony where a baby is fed solid food for the first time. During the ceremony, the baby's father dips a gold ring into every food item. This ring is then touched to the baby's tongue.
Gold and jewellers
Many big gold jewellery retailers in India hail from Kerala. With ample supply of gold, these jewellers can keep up with the increasing gold demand, which is the reason for such competitive gold prices. Gold is so sought after in Kerala that it is soon going to have a Gold Souk Grande in Cochin similar to the world-famous gold souks of Dubai!
The next time you hold a piece of gold jewellery, take a moment to appreciate the long-standing bond we have always had with gold; a bond that transcends all boundaries.
Kerala and Tamil Nadu are two states in South India which are very well known for their gold markets. These two states are believed to be India's biggest gold markets. South India contributes to a whopping 40% to the market share of gold. This is more than the contribution of the East & West combined together.