Make Shashtipoorthi more special with the glitter of gold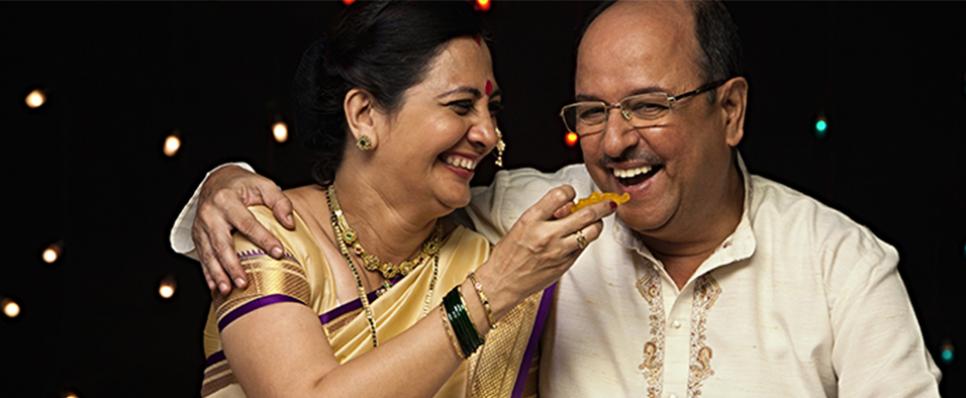 Shashtipoorthi is a traditional ceremony practised in South India that celebrates a man's 60thbirth anniversary. Also known as Shashtiabdapoorthi- Shashti meaning 60, abda meaning years and poorthi meaning completion in Sanskrit. Shashtipoorthi marks the end of a man's one phase of life and the beginning of another. Having fulfilled his family commitments, he takes a step into the new stage of his life.
This ceremony also includes renewal of marital vows taken by the man and his wife.
Gold, is considered as an auspiciousness and a thoughtful gift for the couple on their Shashtipoorthi. Here are some gifting ideas for you to consider:
Gold coins

Gold coins engraved with a picture of Goddess Lakshmi or Lord Ganesha would be an apt gift on such an occasion. This ceremony holds the same importance as a couple's silver jubilee anniversary, you may also gift them gold coins bearing an inscription of their names. The Indian Gold Coin is also a popular gifting option, as it is of 24-karat purity and 999 fineness. The Indian Gold Coin has the Ashoka Chakra on one side and Mahatma Gandhi on the other, making it a symbol of pride for its owner.

Gold idols

Gold idols of Lord Krishna and Radha, Lord Ganesha, and Goddess Lakshmi, would be in keeping with the spiritual importance of this occasion.

Gold jewellery for her

For a woman, jewellery in any form is always a valuable gift and can add to her carefully curated collection. These pieces can be etched with the recipient's initials, name or a favourite motif to touch the right chord when presented. Such rings can be worn on special occasions and on a day-today basis, too, making them just as beautiful as they are useful. You can opt for traditional options such as a gold necklace, a gold bracelet, and gold earrings, or try something more out-of-the-box like a toe ring or a nose ring.

Gold accessories for him

Signature cufflinks made of gold look regal. They rest solemnly on a man's wrist and can be worn at formal events, weddings, social and religious occasions, and can even add a memorable touch to a retirement party.

An exclusive gold tie pin has an eternal charm that never goes out of fashion. A subtle way to show one's style, a gold tie pin can be passed down for generations and worn with pride on several occasions. You can even consider a special shape that symbolizes something special to your loved one, such as travel, reading, or some other memory you share.

Traditional attire worn by men on their Shashtipoorthi can be stylishly complemented with shirt buttons or kurta buttons made of pure gold. These buttons come in a range of intricate designs, from blocks to floral. These can also be bought in all the colours of gold- pink, green, yellow, and white.

Gold Collectibles

Gifting gold-plated pens or those with gold nibs, gold-filigreed vases and photo frames, Tanjore paintings, and more- are all a great way to usher in the couple's golden years.

Gold watches have the appeal of an antique. Gifting one to an elderly gentleman can be a coveted alternative to branded gold watches.

All that glitters may not be gold but when gold glitters everything else surely fades in comparison! Special occasions such as Shashtipoorthi come once in a lifetime and gold can be the ideal souvenir of a truly cherished day.